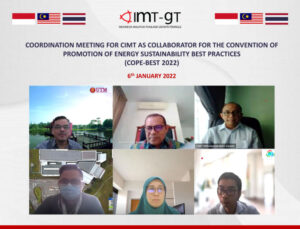 15 January 2022 – A coordination meeting was held in discussion on the collaboration arrangements for the Convention of Promotion of Energy Sustainability Best Practices (COPE-BEST) 2022 event, was successfully convened between Centre for IMT-GT Subregional Cooperation (CIMT) with the Optimal Systems Engineering (OPTIMISE), an independent private body of the Universiti Teknologi Malaysia (UTM).
Attended by the Director of CIMT, Mr. Firdaus Dahlan, the meeting was also attended by Prof. Zainuddin Abdul Manan, Founder & Chair of COPE-BEST, together with his team from OPTIMISE; Prof. Sharifah Rafidah Wan Alwi, Director of Research & Development, Dr. Lim Jeng Shiun, Director of Products & Services, Mr. Axel Looi, Digital Marketing team and Mrs. Khairiyah from the promotion team.
We are pleased to have CIMT as our official collaborator for COPE-BEST 2022 event as the objective of COPE-BEST aligns with the IMT-GT subregional cooperation agenda stipulated in the IMT-GT's Sustainable Urban Development Framework (SUDF) 2019-2036, especially on the Energy portfolio.
#Indonesia #Malaysia #Thailand #IMTGT #growthtriangle #subregional #cooperation #ASEAN #energy #sudf #copebest
Article courtesy of CIMT.