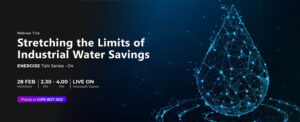 Stretching the Limits of Industrial Water Savings
"Water crises are a top global risk to lives, energy, resources and the environment – World Economic Forum (WEF)"
This webinar presents a holistic approach for Stretching the Limits of Industrial Water Savings and is part of the ENERGISE Talk Series in conjunction with COPE-BEST 2022.
Key questions addressed for industrial and commercial water use:
How does water usage affect energy, resources & environment?
How to predict the minimum water usage targets?
How to audit water consumption without disrupting operations?
What instruments are available for non-invasive water audit?
Should I choose Reduce, Reuse, Recycle or Rainwater Harvesting?
How to holistically minimise fresh water and wastewater?