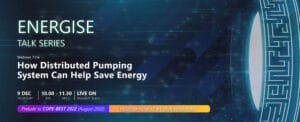 How Distributed Pumping System Can Help Save Energy
Join the upcoming webinar to know more about the approach of utilizing Distributed Pumping System as a high-efficiency Energy Conservation Technology. This webinar is conducted in conjunction with COPE-BEST 2022 under the ENERGISE Talk Series program with Grundfos Malaysia.   
Topics in this talk: 
What is a Distributed Pumping System (DPS)?    
Application of DPS in Industrial and Domestic Utilities System 
The Key Benefits of Having a DPS
Overview of Energy Consumption of Various Pumps in the Industry 
Does the application of a DPS suit your organization?