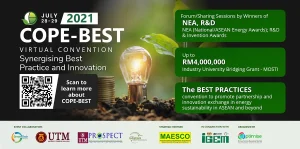 COPE-BEST 2021
COPE-BEST 2021 is the first convention to synergise Best Practices and Innovations in Energy Sustainability, Energy Efficiency and Conservation (ESEEC). This is a convention that brings together key ESEEC stakeholders from among local and international experts and practitioners, end users, service companies, universities, research institutions and policy makers.
Organised in conjunction with IGEM 2021, in collaboration with Malaysian Green Technology and Climate Change Centre (MGTC) and Universiti Teknologi Malaysia (UTM) with strategic partner, Malaysia Association of Energy Service Companies (MAESCO).
Official Events in conjunction with COPE-BEST 2021
About COPE-BEST 2021
Discuss the outlook, latest trends and developments on ESEEC among end users (industries and commercial buildings), universities and research institutions, service providers and policy makers in the context of Malaysia, ASEAN and beyond. Showcase best practices and drive the adoption of latest innovation to improve the ESEEC of end users.
The best practices and innovation showcases may include local winners of research invention awards, National Energy Award, ASEAN Energy Awards, and selected recipients of Energy Audit Conditional Grant (EACG).
Promote quadruple-helix ESEEC stakeholders collaboration among end-users, universities, research institutions as well as policy makers to facilitate the co-operative development and adoption of local ESEEC technologies and innovations, in particular those geared toward the fourth industrial revolution (4IR).
Foster national, regional and global linkages between Malaysia energy community with a global network of universities (e.g. PRES – Process Integration, Modeling and Optimisation for Energy Saving and Pollution Reduction), end users and research institutions and policy makers in energy sustainability.
For COPE-BEST 2022, kindly visit this link: COPE-BEST 2022 – Towards Net Zero Emissions