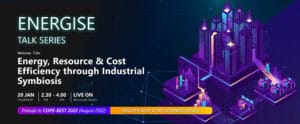 Energy, Resource & Cost Efficiency through Industrial Symbiosis
Among the key topics discussed in this webinar will be on how Industrial Symbiosis being a proven approach for companies to achieve multiple bottom line of reduced operating cost, increased profit and improved sustainability, and the potential to enable businesses to thrive above the challenges of COVID19 and beyond. This webinar is conducted in conjunction with COPE-BEST 2022 under the ENERGISE Talk Series program with SIRIM Berhad.
Topics in this talk: 
What contributes to cost losses in your company?   
How to reduce operating costs through energy and resource efficiency? 
How to increase company's profit through industrial symbiosis? 
What is Resource Efficiency & Industrial Symbiosis Opportunity (REISO) Program? 
Is your company eligible to apply for REISO?