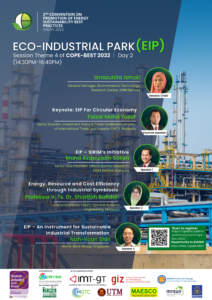 29 August 2022 – Join COPE-BEST 2022 virtual convention on 20-22 September 2022 – and be part of the community of best practices and innovations in energy sustainability to address the grand challenges of transitioning towards Net Zero Greenhouse Gas (GHG) Emissions.
🔰 Highlight of Day 2 (21th September, 2:30 PM – 4:40 PM)
Growing emphasis on circular economy has increased the importance of eco-industrial parks (EIP) worldwide. Eco-Industrial Parks (EIPs) have enormous economic, environmental, and social advantages that outweigh traditional business case advantages. Session 4 of COPE-BEST 2022 Themed: Eco-Industrial Park (EIP) with showcases of the concept, initiatives, benefits, challenges, and examples of EIP within ASEAN and globally.
🔰Contents of Session Theme 4
✅ Keynote: EIP For Circular Economy
✅ EIP – SIRIM's Initiative
✅ Energy, Resource and Cost Efficiency through Industrial Symbiosis
✅ EIP – An Instrument for Sustainable Industrial Transformation
🔰 COPE-BEST 2022 is expected to bring together over 1000 participants comprising key stakeholders of Energy sustainability, Energy Efficiency and Conservation (ESEEC) that include policymakers, energy suppliers, end users, service providers, universities and research institutions within ASEAN and beyond.
🔰 COPE-BEST 2022 is organised in conjunction with the International Greentech & Eco Products Exhibition & Conference Malaysia (IGEM 2022), in collaboration with Universiti Teknologi Malaysia (UTM), Malaysian Green Technology And Climate Change Corporation (MGTC), Malaysia University Sustainability Network (MySUN), Malaysia Energy Services Companies (MAESCO), ASEAN Centre for Energy (ACE), Centre for IMT-GT (Indonesia-Malaysia-Thailand) Sub-regional Co-operation (CIMT), Deutsche Gesellschaft für Internationale Zusammenarbeit (GIZ), and SIRIM Berhad; with Optimal Systems Engineering Sdn Bhd (UTM spinoff-company as the main event organiser).
📢 Register now for free! Limited to first 1000 participants only.
🌐COPE-BEST 2022 Website:
https://copebest.optimalsystems.my/event/cope-best-2022/
📆View the full schedule here: 
https://copebest.optimalsystems.my/event/cope-best-2022/
📝 Ticket Registration:
https://hopin.com/events/cope-best-2022
🔗 Product Showcasing Opportunity
#Registration #CopeBest