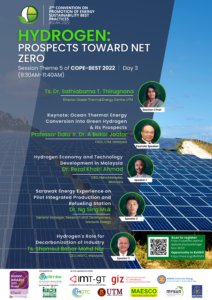 5 September 2022 – Join COPE-BEST 2022 virtual convention on 20-22 September 2022 – and be part of the community of best practices and innovations in energy sustainability to address the grand challenges of transitioning towards Net Zero Greenhouse Gas (GHG) Emissions.
🔰 Highlight of Day 3 (22nd September, 9:30 AM –11:40 AM)
Renewable energy-based hydrogen has great potential to replace fossil fuel-dependent applications, including heating applications in industries and transportation. Session 5 of COPE-BEST 2022 Themed: Hydrogen: Prospects Toward Net Zero highlights the hydrogen for different sectors, including industry and transportation.
🔰Contents of Session Theme 5
✅ Keynote: Ocean Thermal Energy Conversion into Green Hydrogen  & its Prospects
✅ Hydrogen Economy & Technology Development in Malaysia
✅ Sarawak Energy Experience on Pilot Integrated Production and Refueling Station
✅ Hydrogen's Role for Decarbonization of Industry
🔰 COPE-BEST 2022 is expected to bring together over 1000 participants comprising key stakeholders of Energy sustainability, Energy Efficiency and Conservation (ESEEC) that include policymakers, energy suppliers, end users, service providers, universities and research institutions within ASEAN and beyond.
🔰 COPE-BEST 2022 is organised in conjunction with the International Greentech & Eco Products Exhibition & Conference Malaysia (IGEM 2022), in collaboration with Universiti Teknologi Malaysia (UTM), Malaysian Green Technology And Climate Change Corporation (MGTC), Malaysia University Sustainability Network (MySUN), Malaysia Energy Services Companies (MAESCO), ASEAN Centre for Energy (ACE), Centre for IMT-GT (Indonesia-Malaysia-Thailand) Sub-regional Co-operation (CIMT), Deutsche Gesellschaft für Internationale Zusammenarbeit (GIZ), and SIRIM Berhad; with Optimal Systems Engineering Sdn Bhd (UTM spinoff-company as the main event organiser).
📢 Register now for free! Limited to first 1000 participants only.
🌐COPE-BEST 2022 Website:
https://copebest.optimalsystems.my/event/cope-best-2022/
📆View the full schedule here: 
📝 Ticket Registration:
https://hopin.com/events/cope-best-2022
🔗 Product Showcasing Opportunity:
#Registration #CopeBest