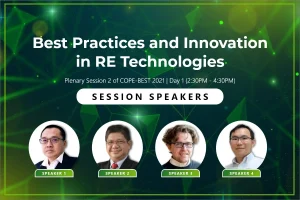 29 June 2021 – Interested in Exploring Best Practices and Innovations in Renewable Energy (RE) Technologies? Join COPE-BEST virtual convention on 28-29 July 2021 – The 1st convention that synergises best practices and innovations in Energy Sustainability, Energy Efficiency and Conservation in the context of Malaysia, ASEAN and beyond.

Plenary Session 2
Day 1 (2:30PM – 4:30PM)
💎 Power Generation from Treatment of POME for Local Grid
💎 Solar PV Technology: Reliability & Quality Issues & Challenges
💎 Global View on Solar Heat for Industrial Processes – from Planning to Realization
💎 Driving Energy Transformation – A Roadmap Towards 100% Renewable Energy
This convention is organized in conjunction with IGEM 2021. Limited slots available, register now! MAESCO members and Students can enjoy exclusive rates.
🌐 COPE-BEST 2021 Website:
https://optimalsystems.my/cope-best
📅 View the full schedule here:
https://optimalsystems.my/cope-best/programmes
📝 Ticket Registration:
https://optimalsystems.my/cope-best/registration