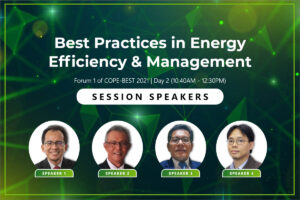 21 June 2021 – Get to know all the Best Practices in Energy-Efficiency and Management in the 2-days virtual convention in COPE-BEST 2021! Join COPE-BEST virtual convention on 28-29 July 2021, the 1st convention that synergises best practices and innovations in Energy Sustainability, Energy Efficiency and Conservation (ESEEC) in the context of Malaysia, ASEAN and beyond. COPE-BEST brings together key ESEEC stakeholders from local and international experts/practitioners, industry, commercial end users, service companies, policy makers, universities and research institutions.
COPE-BEST Highlights: Forum 1
1️⃣ Adopting EnMS Standards to Achieve Business and Sustainability Goals
2️⃣ Institutionalising Sustainable Energy Management at MoH Hospitals
3️⃣ Industrial Energy Efficiency (EE) and Management – Experience of Indonesia
4️⃣ Customised EE Strategies for New & Existing Buildings – ASEAN Award Showcase
This convention is organized in conjunction with IGEM 2021. Limited slots available, register now! MAESCO members and Students can enjoy exclusive rates.
🌐 COPE-BEST 2021 Website:
https://lnkd.in/dqekfE5
📅 View the full schedule here:
https://lnkd.in/gMtHRT6
📝 Ticket Registration:
https://lnkd.in/dY_S-pG